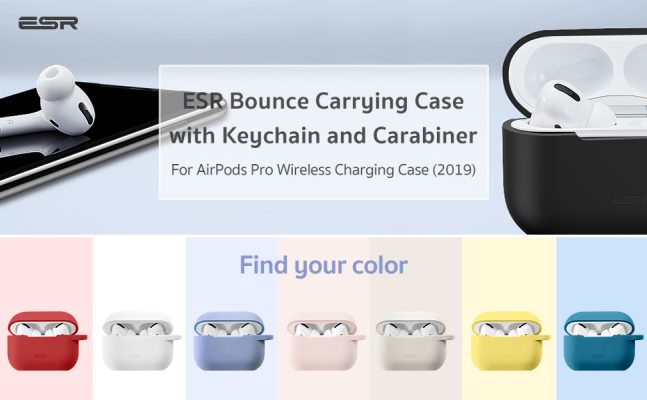 – Solid Protection: Made with premium silicone; this cover helps protect your AirPods case (2019 Release) from bumps and drops without adding additional bulk.
Secure
– Visible Front LED: Won't affect wireless charging. A small section of the cover has been specially designed to allow your case's status light to shine through.
– Easy to Carry: The keychain design and free carabiner make carrying your charging case easier than ever. You'll never have to worry about losing your AirPods again.

Product Specifications
Charging standard: Qi
Standard input: 5V 2A
Standard output: 5V 1A
Fast charge input: 9V 1.7A
Fast charge output: 7.5W/10W
Dimensions (with cover): 98 x 98 x 11 mm
Weight (with cover): 97 g
Dimensions (without cover): 64 x 64 x 8 mm
Weight (without cover): 38 gBule
– Bounce Series AirPods Pro Silicone Case
– ESR Compact Wireless Charger – 1 m USB to USB-C cable – Detachable silicone cover
– User manual